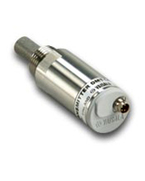 Miniature dewpoint measurement instrument for industrial OEM applications like air dryers or plastic dryers.
The Vaisala DRYCAP® Dewpoint Transmitter DMT142 is a miniature dew point measurement instrument. The transmitter can be installed directly into pressurized systems at 50 bar (725 psia) maximum pressure. The long-term high performance is achieved with Vaisala DRYCAP® technology. The sensor fully withstands getting wet, and therefore, the transmitter performs exceptionally well in applications that occasionally experience process water spikes, such as pipeline condensation during a system failure or start-up. The sensor is also immune to particulate contamination, oil vapor and most chemicals, and is insensitive to the flow rate.
Long calibration interval
The calibration interval of the DMT142 is two years. Additionally, the Vaisala DRYCAP® Hand-Held Dewpoint Meter DM70 can be used to confirm the performance of the DMT142 without disconnecting the transmitter. For any adjustment needs, the transmitter can be sent to Vaisala Service. The auto-calibration software works on-line while the process is running. If the measurement accuracy is not confirmed, corrections are made automatically.
Miniature size dew point transmitter for e.g. small industrial dryer applications
Vaisala DRYCAP® technology with auto-calibration
Calibration interval of two years
Dew point measurement range -60 ... +60 °C (-76 ... +140 °F) with an accuracy ±3 °C (±5.4°F)
Withstands condensation
Fast response time
Compatible with Vaisala DRYCAP® Hand-Held Dewpoint Meter DM70
NIST traceable (certificate included)