Warmed probe provides true humidity readings in condensing conditions
Humidity measurement expressed as relative humidity and/or dewpoint temperature
Easy field calibration with the HM70 hand-held meter
Open shield prevents microclimates
The warmed humidity probe of the HMT337 / PTU307 is mounted in a shield which is open at the bottom to ensure steady air circulation to the sensor even in calm weather. In traditional radiation shields sleet or snow can accumulate on the shield and prevent the proper air circulation through the shield, and create a humid microclimate until the snow melts.
Essential for critical weather measurements
Obtaining a true humidity reading is particularly important e.g. in traffic safety: at airports and at sea as well as on the roads. It is essential, for example, in fog and frost prediction.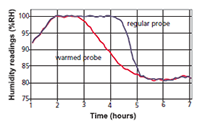 After a period of 100 % relative humidity, the
warmed probe measures the true humidity,
whereas the non-warmed probe takes time
to recover from the condensation.