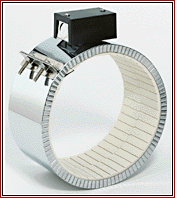 Typical applications are plastic molding, extrusion and molding presses. Ceramic band heaters are also used for pipe heating, heat treating and autoclaves or any application where there is a need to apply heat to a cylindrical surface.

DESIGN FEATURES:
Energy efficient, less power consumption
High sheath temperature capability up to 1600°F
Thermally insulated
Uniform temperature
Flexible, easy to install and remove
Ceramic Fiber Insulation: The standard insulation is 1/4" thick to improve energy conservation 25% and more over non-insulated bands. 1/2" thick insulation optional. In the Maxi-Insulated design, an additional 1/2" non-compressed layer of insulation is contained in a separate, flexible chamber for even greater energy savings.
Serrated Sheath: Sheath material is resistant to heat and corrosion. Unique Serrations maximize flexibility, increase surface contact and provide easy opening and installation of the heater, eliminating the necessity of two piece band heaters up to 18" in diameter.
Simplified Installation, Additional Energy Conservation:
Ceramic Band Heaters can be manufactured in widths much greater than what is practical in Mica Band Heaters, eliminating heat losses between gaps in narrow band heaters and simplifying installation.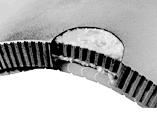 Maxi-Miser Insulation Chamber