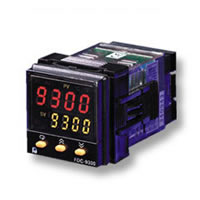 Series 9300 sets a new standard for 1/16 DIN controllers. Input sample rate of 5 scans per second and 3 Inputs (Universal, CT or analog remote SP and event input) come standard on the 9300. 18 bit A/D and 15 bit D/A offer the highest accuracy for industrial control applications.
The 9300 can be supplied with up to 2 control outputs, alarm and communications (or analog retransmission), all in a 1/16 DIN package. The 9300 can also be equipped with a 20VDC/25mA power supply if output 2/alarm 2 is not required. Standard software functionality includes Fuzzy logic + PID, Ramp/Soak, timer
function, pump control, dual setpoint (event selectable) and more. With isolated inputs/outputs, UL/CSA and CE,
the 9300 can go anywhere and get the job done.
Fuzzy Logic PID Temperature Control
Three Inputs Standard
Fast Input Scan Rates
Variety of Alarm modes
Transmitter Power Supply
SEL Function to arrange user menu
Nema 4X/IP65 protection available
FREE Data Acquisition Software - Multiview CFR21 Part 11 Features!