PCF Series Mixed Bed Deionization Cartridges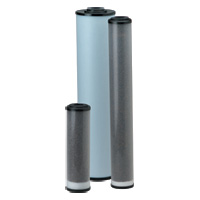 Designed for deionizing water up to 16 megohms
All materials and construction are FDA FDA-compliant
Three sizes and capacities
PCF Series filter cartridges have been developed in response to the requirements for deionized water in many industries.
They are manufactured using an FDA-compliant resin that has been subjected to additional post-production steps to minimize the total organic carbon (TOC) level.
These high-capacity, semi-conductor-grade resin cartridges are ideal for use in pharmaceutical and medical laboratories, cosmetics, and circuit board printing applications.
PCF Series cartridges are available in three sizes, flow rates and capacities. They are convenient and cost effective for many applications where low levels of total organic carbon (TOC) and total dissolved solids (TDS) are required.
Circuit board printing
Pharmaceutical use
Steam and humidification
Cosmetics
Steam processors
Humidification systems

Recirculating/cooling towers
Power generating equipment
Medical/laboratory use
Lasers
Jet water sprayers
Boiler make-up water
Typical Cartridge Properties and Characteristics

Function Structure:
Cation
R-SO3-H+
Anion
AR-N(CH2)2(C2H2OH)+OH-
Physical Form:
Moist spherical bead
Ionic Form:
H/OH
Percent Conversion:
Hydrogen
95% minimum
Hydroxide
90% minimum

Materials of Construction

Filter Media
Mixed Bed DI Resins
End Caps
Polypropylene
Shell
Polypropylene
Pre-Filter
Polypropylene
Post-Filter
Polypropylene
Gaskets
Buna-N
Temperature Rating
40–100ºF (4.4–37.8ºC)

Cartridge Specifications and Performance Data

Model
Dimensions
Capacity Grains
(mg TDS as CaCO3)
Initial ΔP (psi)
@ Flow Rate (gpm)
Suggested Flow Rate
PCF1-10MB
22⁄3" x 93⁄4" (68 mm x 248 mm)
270 (17,500)
1.5 psi @ 0.25 gpm
(0.10 bar @ 0.95 Lpm)
0.25 gpm (0.95 Lpm)
PCF1-20MB
22⁄3" x 20" (68 mm x 508 mm)
600 (38,800)
3.4 psi @ 0.50 gpm
(0.23 bar @ Lpm)
0.50 gpm (1.9 Lpm)
BBF1-20MB
41⁄2" x 20" (114 mm x 508 mm)
1850 (120,000)
1.10 psi @ 1.25 gpm
(0.076 bar @ 4.7 Lpm)
1.25 gpm (4.7 Lpm)

WARNING: For drinking water applications, do not use with water that is microbiologically unsafe or of unknown quality without adequate disinfection before or after the unit.
NOTE: The above resin data is based on information obtained by Pentair Filtration, Inc. This data does not imply any warranty or performance guarantee. We recommend that the user determine performance by testing on his own processing equipment. We assume no liability or responsibility for patent infringement resulting from the use of this product.
CAUTION: Do not use cartridges on equipment that has an electric conductivity water level indicator.
These cartridges last longer and produce the best quality of water when installed after a reverse osmosis or distillation system.
---
Important Notice: By purchasing products from this Site, you acknowledge and agree that you have read and accept the Terms and Conditions of this online store. For more information email us at: info@iprocessmart.com
Copyright © 2009 iProcesSmart™.com