MIGHTY WATT CARTRIDGE HEATERS
Fig.A Fig.1B Fig.1C Fig.D Fig.E Fig.F Fig.G Fig.R Fig.N
Fig.M Fig.MC Fig.T Fig.U Fig.W Fig.X Fig.Y
For a closer look at termination configurations select appropriate link above:
---
| | |
| --- | --- |
| | 1/8" - 1/4" Dia. |
| | 3/8" Diameter |
| | 1/2" Diameter |
| | 5/8" Diameter |
| | 3/4" Diameter |
| | Heaters with Internal Thermocouples |
| | PDF PRODUCT DATA SHEET (46k PDF file) |
---
| | |
| --- | --- |
| | The Ogden Mighty Watt is an elite category of high density cartridge heaters. No other swaged cartridge heater is compacted to the extent of the Mighty Watt, producing excellent heat transfer capability and the dielectric and physical strength necessary for long life and outstanding performance. The Mighty Watt is designed for applications where high operating temperatures are required, or where heaters are subjected to vibration. Because the construction allows maximum heat transfer and high temperatures, it is possible to use fewer heaters at higher watt densities to reduce space requirements. The Mighty Watt is available from 1/8" to 1-1/4" diameters in just about any conceivable increment. With designed-in quality and reliability, the Mighty Watt is the ideal heat source for any process. |

The "MW" series is the foundation of all the variations shown. A heavy duty double crimp connects lead wires to solid nickel pins. Connections are insulated with sleeveing. Maximum temperature at the lead area is 400 F/200 C. Standard lead length is 12". Specify additional length. The "MW" is the standard design for all diameters (except 1/8").
Computer generated manufacturing specifications
Nickel-Chromium resistance wire precisely wound on a Magnesium Oxide core
Exact centering of the core and closeness of windings to the sheath ensures efficient heat transfer and lower internal temperatures
Heavy wall Incoloy sheath provides for maximum protection against high temperature oxidation and corrosion
Bottom Slug is TIG welded to the sheath to prevent contamination
High purity Magnesium Oxide is thoroughly compacted and the entire assembly is swaged to the ideal density to create a heavier mass than other cartridge heaters for the best possible heat transfer
High density cap seals Magnesium Oxide in place and resists contamination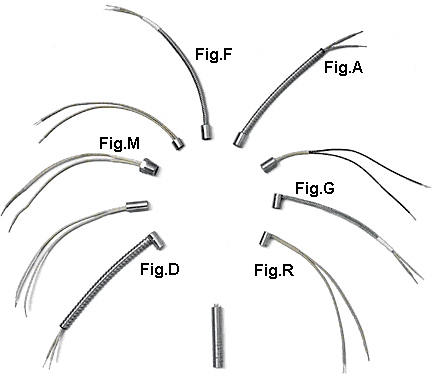 Fig.A Fig.1B Fig.1C Fig.D Fig.E Fig.F Fig.G Fig.R Fig.N
---
The Mighty Watt Plus allows one of nine lead modifications to be added to any of over 700 Mighty Watt Cartridge heater sizes and ratings available from stock. This creates many thousands of possible combinations-shipped within 2 days! Rather than waiting through normal lead times or inventorying numerous spare parts, the exact item necessary can be on the job quickly...essential for meeting today's manufacturing requirements. The Mighty Watt Plus modification can be added to any stock item in 1/4", 3/8", 1/2", 5/8" or 3/4" diameter with any lead length desired. All Mighty Watt Plus items use high temperature lead wire rated to 850

F(450

C).
MIGHTY WATT PLUS (U.S. Patent# 5,034,595)
Any of the Mighty Watt Plus modifications can be added to the base cartridge heater. With minimal sheath extension, several styles of lead protection, fully flexible or other lead designs can be applied virtually as quick as the standard crimped-on lead connection. Just locate in the current Ogden Stock List an appropriate cartridge heater...for instance, a MWEJ05A0101 at 500 watts, 240V (1/2" diameter by 5" long). 48" right angle protected leads are desired. Choose from stainless steel flexible braided or stainless steel armor cable. Add the Figure Suffix to the catalog number and the lead length in feet and the order is ready to proceed. In the preceding example, if the lead style selected was 48" of the right angle stainless steel braid (Fig. G-suffix letter code "G") the ordering number would be: MWEJ05A0101-G4
For right angle armor cable (Fig. D-suffix letter code "D") the ordering number would be: MWEJ05A0101-D4
The numerical suffix code designation is the lead length in feet. Note the extension dimensions from the information in the following pages to be certain the overall length does not exceed the physical space available.